At first glance, Zolucky seems like a clothing store that offers incredible prices on fashionable garments. Who wouldn't want to shop here?
However, things aren't always as they seem. We'll be sharing our in-depth Zolucky reviews to help shoppers figure out if this brand is a scam or if it's worth buying from.
Quick Overview: Although Zolucky isn't a complete scam, we wouldn't recommend shopping here because of its poor return policy and bad customer reviews when it comes to product quality.
What is Zolucky?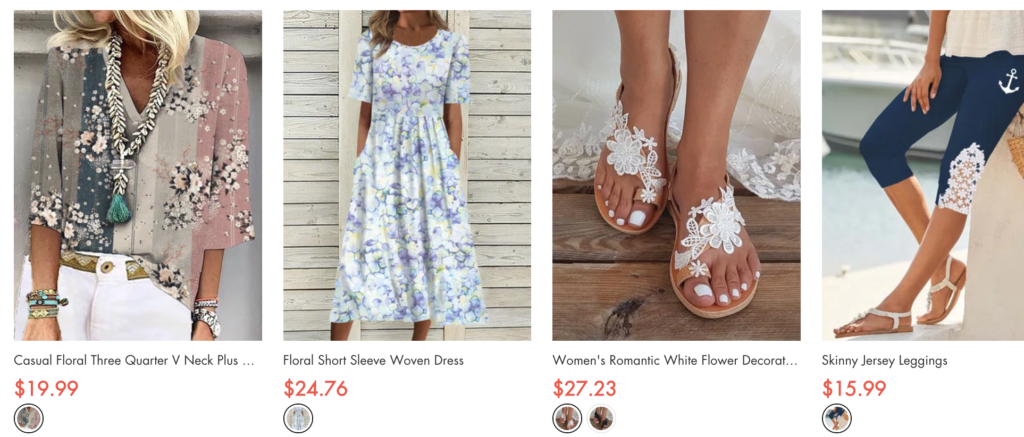 Zolucky is an affordable online clothing store based in China with a huge selection of clothing for women.
They offer tops, dresses, shoes, bottoms, swimwear, and even a wide variety of plus-size options.
Zolucky Reviews
Our Rating: 2/10
Although Zolucky seems to have great deals and cute garments, we'd recommend shopping somewhere else.
Quality & Sizing
Many shoppers complain that the quality is terrible and the items they received didn't look anything like the photos.
While Sitejabber's overall rating is 4.5 stars, reviews on platforms like this are usually easy to fake. The ratings on BBB were a completely different story.
On BBB, there are over 300 customer reviews with a 1.11 overall rating.
Nearly every review here complained about their order taking forever to arrive, then the items they received being terrible quality and ill-fitting.
Return Policy
Another huge issue with this company is its return policy. They state "easy returns within 30 days" on their homepage, which is misleading because they leave out one key detail.
The buyer is responsible for return shipping. Since they are based in China, the return shipping cost can be extravagant.
Many reviewers stated that the return shipping was going to cost them $30 or higher (one reviewer said it would cost $86 to return).
Suspicious Images
We also noticed that in every photo that Zolucky shares, the model's head is cropped out.
Cropping heads out often signals that these photos are stolen from reputable retailers or models on Instagram.
Also, most of the photos we saw on their website made it very clear that the garments are edited onto the model. It's likely that they take photos from the web and edit their garment onto the model (see image example below).
That said, we tried to locate the source of many of the images, but we didn't find any original photos, so we can't say for sure. Many brands take images from Instagram because it's more difficult to trace the image back.
Shipping Minimum
Another downside is the fact that they only offer free shipping on orders higher than $99.
This is a pretty high minimum, especially for first-time shoppers who might not yet trust the store enough to spend this much money.
To compare, SheIn's free shipping minimum is $49 and they often run deals that lower this shipping minimum.
On top of all these issues, the prices at Zolucky aren't even that great. You can find similar prices at more trustworthy retailers with local stores like Forever21 or H&M.
Zolucky Issues (Summary):
300+ bad reviews on BBB
Most Zolucky reviews state that items were very poor quality and don't even fit

Poor return policy, requires shoppers to pay for return shipping to China

Suspicious images that are obviously edited

Free shipping minimum is $99
Bottom Line
Overall, Zolucky is another overseas retailer that is risky to purchase from. Shopping from these types of retailers is almost like gambling. While you may end up with an affordable item you like, you're also risking the chance of receiving something terrible.
Although they're not a complete scam and will send your order, many shoppers receive very poor quality items that fit terrible and don't even look like the pictures.
And if you don't like your garments, their return policy isn't great since you need to pay for return shipping. For many shoppers, this return shipping is so high that it's not even worth returning.
Zolucky Alternatives
If you're tempted by the affordable prices, we'd recommend shopping at a more popular overseas retailer that offers free returns. We've shared some top options below.
When shopping at any of these retailers, we'd recommend taking the time to read individual product reviews and even looking up recent hauls on TikTok or Youtube.
Items tend to be a hit or miss on these overseas retailers, so hauls can help you find garments that shoppers had good experiences with to avoid receiving bad items.
SheIn – This China-based retailer is the most popular alternative, with free returns to the USA. They offer clothing for men, women, kids, babies, and even dogs (they also have a wide variety of other random goods, like fun items for the home). Shopping here can still be a hit or miss, but free returns ensures you won't be out of your money.
Zaful – Another China-based retailer that is very similar to SheIn. They offer free returns on your first order, so take advantage of this if you've never shopped here before.
Aliexpress – A marketplace for all types of Chinese products, from fashion to home to anything else you can imagine. However, not every item offers free returns. Individual sellers will decide if they offer free returns, so make sure to check and see if the item has the "free return" icon or a money-back guarantee.