Curious about the Tiva Heater and wondering if it's worth buying?
We'll be analyzing everything you need to know about this heater, including if it's worth it or if it's just a scam.
Quick Overview: We do not recommend buying this heater. Keep reading to see why!
What is the Tiva Heater?
The Tiva Heater is an "as seen on TV" product that claims it is the fastest, warmest heater you've ever owned.
It's weatherproof with built-in motion sensors and uses infrared heat, which they claim uses 50% less energy than a standard gas heater. You can mount it on the wall or buy a stand to mount it on.
Tiva Heater Reviews
Our Rating: 2/10
As great as this product might sound, is it even legit?
Although it's not a complete scam, we don't think this product is worth buying for a variety of reasons.
The first red flag is the fact that you can't even purchase the product on their website, it states you need to call to order.
They also don't share the actual price and advertise gimmicky deals. For example, one deal we saw was "buy one get one free and get a free stand that's worth $99."
Sure, this sounds like a great deal, but it's a rip off if the price of one heater is $400. They don't tell you the price until you call them to place the order, which is suspicious.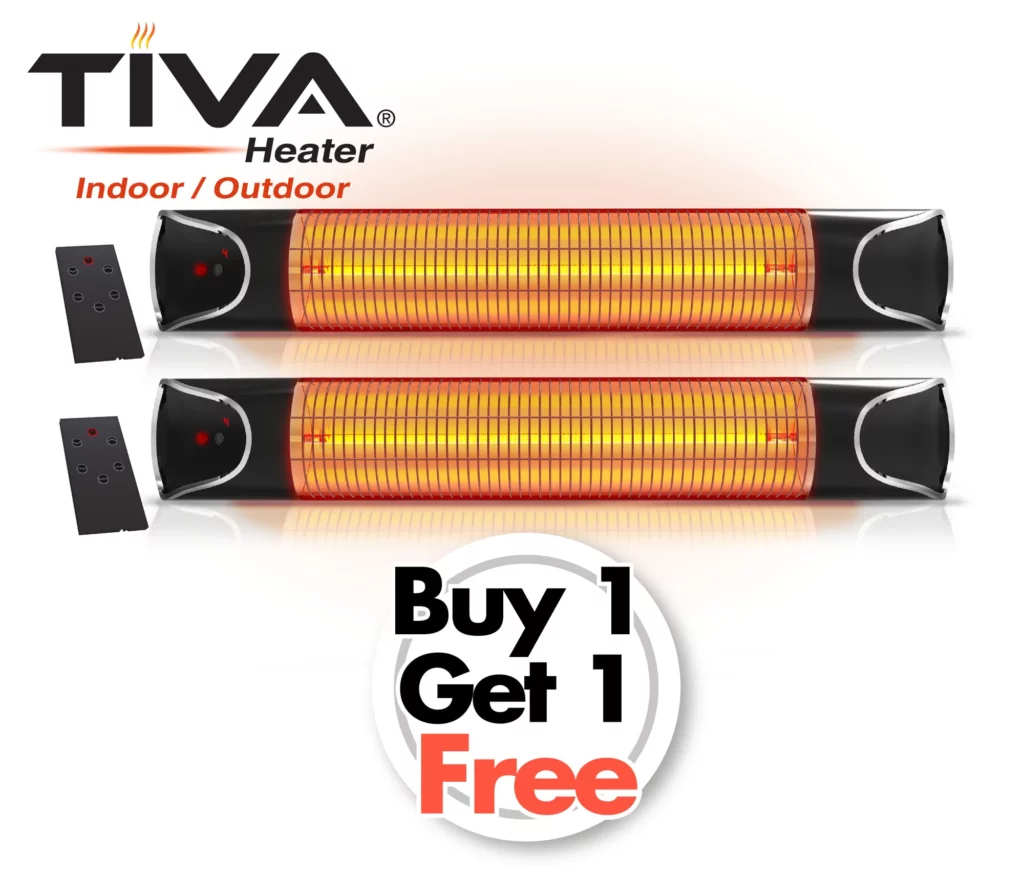 We also found very few customer reviews online, almost all of which were bad reviews.
The only reviews we could find were a handful of reviews on Google and a few on the Tiva Heater Facebook page.
A few reviewers recall seeing the same product commercial sold under a different name, which is very suspicious.
"These heaters were sold under another name, which I can't remember, but had heaps of bad reviews even the commercial is the same"
"Wasn't there a heater that looked the same as this with a lot of bad reviews? Basically the same commercial and same people, the only difference between them is a name change. I wouldn't bother buying the product."
One buyer complains that the product is incredibly hard to send back, stating the following:
"I am having the hardest time trying to send it back.. NO customer service help at all. No one at 4 different phone numbers picked up the call. The messages all state I am calling out of work hours. I was not, it was noon. One of the numbers just disconnects the call. DOES NOT heat a room. When we are directly under it we feel the heat, but it does not spread the heat out in a small room. Had it on for at least 6 hours and no difference in the room (16×16) unless you were standing right under it. It works as well as my basic Menards $39 heater. Don't even bother trying it. I just received an email while writing this review, it stated someone will get back to me within 48 hours. The money will have cleared the bank by then!"
A few other reviews also complain that the heater didn't work nearly as well as the advertisement made it seem.
"We bought 2 for our conservatory and they do not heat anywhere as good as they are advertised to do. Standing in front of them is ok but sitting close there is no heat, very disappointing."
"This is a cheaply made, VERY EXPENSIVE heater. A hairdryer puts out the SAME heat as this, with the same wattage… and it only costs $30!"
"Very disappointing as always, I like to do my homework and my local Bunnings sells the 2000w heater on a stand for $179, with a 12-month warranty. No postage, no gimmicks, no (free stand valued at $199)."
We also found this Amazon listing that currently has 3 ratings (all of which are 5 stars, but don't share actual written reviews). That said, Amazon reviews are shockingly easy to fake, so we don't trust these either.
Plus, the Amazon listing isn't through Amazon Prime, so you will have to trust the company to return your order if you don't like the product.
Another red flag we found was that on their contact page, they list the following address:
BD Products LLC
110 Phoenixville Pike
Suite 400
Malvern, Pa 19355
However, when we searched for BD Products in Google, the only reputable company that came up was a medical company.
And when we searched the address, a few businesses came up that didn't seem relevant to the Tiva heater (including a gym, an insurance group, and a home builder company).
We also found that American Telecast lists this same exact address on their contact page.
Overall, the Tiva Heater seems like another gimmicky as seen on TV product that is overpriced and doesn't live up to expectations. The company as a whole is very suspicious, not sharing much information about themselves and not even sharing the price until you call their phone number.
Bottom Line
We don't recommend purchasing the Tiva Heater.
After searching for Tiva Heater reviews high and low, we only found a few customers who purchase this heater and the majority weren't happy with it.
Many people state that the same heaters were sold under a different name previously and had a ton of bad reviews. They even used the same commercial – the company likely changed the name so potential shoppers didn't see these previous bad reviews.
Since the product isn't available for sale at any trustworthy retailers and they only have a suspicious call-to-order option on their website as well as other suspicious practices, we would recommend going for another heater.
There is likely nothing special about the Tiva heater, it looks just like any other infrared heater that you'd find for cheap on Amazon or other large retailers, so we recommend buying one of these alternatives if you're looking for an affordable infrared heater.
The only thing you might miss out on is the motion sensor feature that the Tiva offers. This seems to be less common in other heaters, although you can find one if this feature is important to you.
Tiva Heater Alternatives
For an affordable infrared heater that looks similar and offers similar perks to the Tiva Heater, check out the following products you can buy from reputable retailers: