Working out at home can get expensive. From weights to machines to benches, you might be spending a small fortune to start your home gym (depending on your needs). And when you're traveling, working out can be difficult.
Redge Fit is a product that aims to help change this, no matter what level of athlete you are. But is it worth it or is this product too good to be true?
We'll be breaking down everything you need to know about Redge Fit and if you should invest in this product.
What is Redge Fit?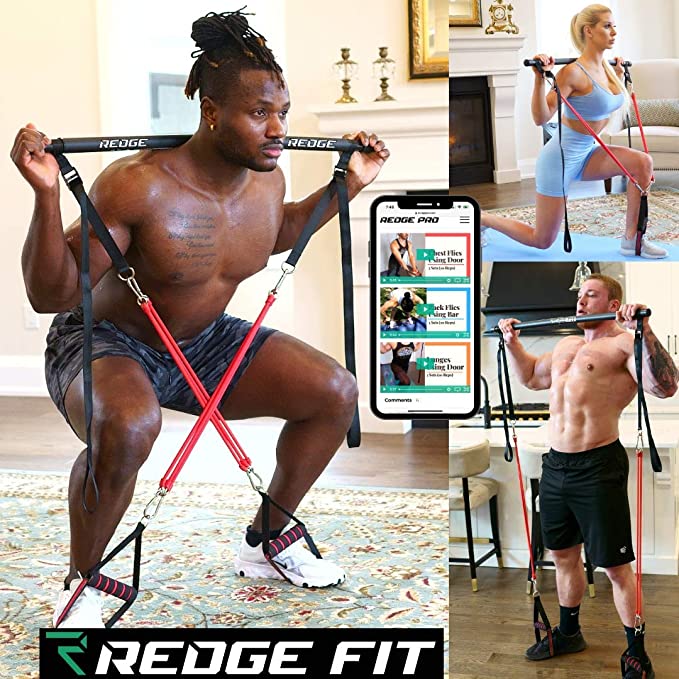 Redge fit is an innovative portable fitness product that consists of a retractable bar fitted with adjustable resistance bands that can be attached to both ends of the bar.
It comes with six "anti-break" bands, each offering 30 pounds of resistance.
The device weighs just 3.5 pounds total and breaks down into a small size to fit into your luggage or travel bag.
It's a very travel-friendly product and can be used with a large array of workouts for the entire body.
Redge Fit Reviews
Overall Rating: 1/10
Now, is it worth it?
Unfortunately, Redge Fit seems to have more negative reviews than positive reviews. Overall, we'd say this product is too good to be true until the brand improves the quality of the bands.
The main issue most customers have experienced is the bands breaking, often during one of the first workouts they attempted with the device. Having these bands break in the middle of a workout can be painful and even dangerous.
One reviewer reported the band snapping on their finger, causing it to turn black and blue. They even went to the emergency room to make sure nothing was broken. Ouch!
On top of this, other reviewers complained about the fact that you have to purchase a subscription in order to see recommended workouts you can do with this product.
With the product already being overpriced (it costs over $100), customers were annoyed that the brand expected them to shell out even more money for the app subscription.
Bottom Line
Until the brand decides they want to improve the quality of their bands, we'd recommend steering clear of this product to avoid a painful experience (and potentially avoid a trip to the emergency room).
Although it's available on Amazon with an essentially risk-free return policy, we still recommend avoiding it for safety reasons. There are over 200 negative reviews and far too many customers complaining about the bands breaking.
There are a decent amount of positive reviews too, but we're unsure about their authenticity.
There are over 900 positive ratings on this product, but only 47 of these actually left written reviews. On the other hand, there are over 200 negative ratings and 97 of those have written reviews.
Unfortunately, many brands make it seem like their product has great reviews on Amazon since anyone can leave reviews.
Redge Fit Alternatives
Luckily, there are plenty of alternatives to the Redge Fit device. The following recommendations are from top brands in the portable gym space that were created with similar concept and travel-friendly design.
The Body Boss – Similar design with the addition of a platform, similarly priced at just over $100 and has excellent reviews
The Gorilla Bow – Slightly different design and slightly more expensive, but great reviews overall
X3 bar by Dr. John Jaquish

– Designed by a doctor and has amazing reviews with proven results, but much more expensive at $549 for the system
You can also simply buy a bar for resistance bands, then purchase high-quality resistance bands that won't break.
This could work even better and end up being more affordable since you'll only need to buy the bands you need with this method. For example, if you're a beginner, you probably don't need to splurge on a set of six high-resistance bands just yet.