Being pregnant is a very special time, which means you should be wearing special clothes (like gorgeous flowy gowns). If you've stumbled across Momnfancy, you might be tempted by their beautiful styles, but are wondering if it's legit.
We'll be sharing everything you need to know about this brand, including if it's a smart place to buy maternity clothing or if it's a scam.

What is Momnfancy?
Momnfancy is an online clothing store based in China dedicated to affordable maternity clothing and baby clothing.
Most of their clothing is very girly, with lots of flowy special occassion dresses as well as other garments like swimwear and nursing clothing.
Prices typically range between $10 – $50, depending on the garment.
Momnfancy Reviews
Our Rating: 1/10
Although the website looks nice and the garments seem extremely cute with tempting prices, we recommend avoiding this online store.
For one, you'll notice many of the photos on their website have the model's head cropped out and are blurry, which often means the photos are stolen and the brand is pretending to sell a dress that looks that nice.
This entices shoppers to buy this seemingly cute and well-fitting garment, but the item they receive is often very different and looks terrible, not to mention is poor quality.
We did deeper research into stolen photos, which only confirmed our suspicions. Momnfancy uses stolen photos from reputable brands.
For example, this off-shoulder dress from Momnfancy is the same as the Leona Dress from Petal and Pup.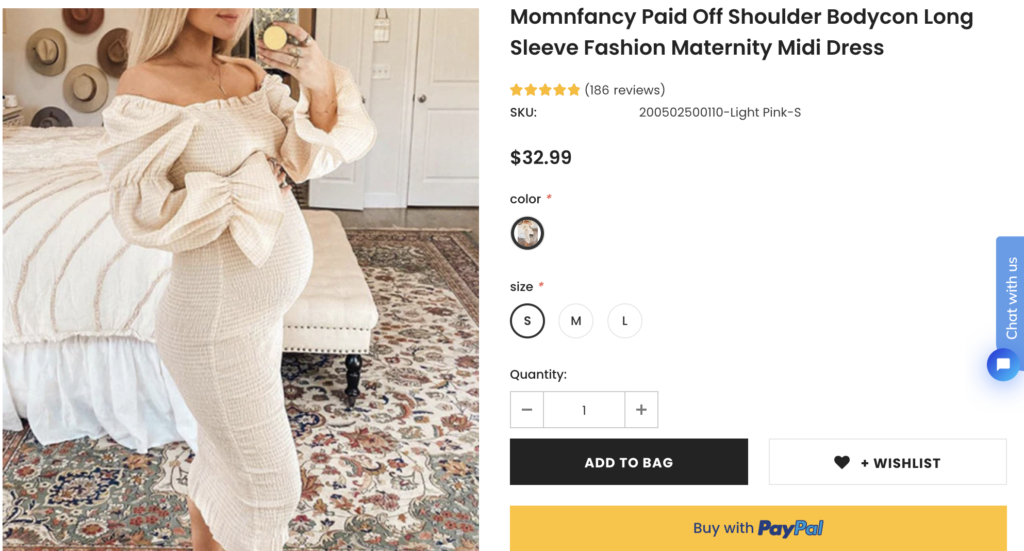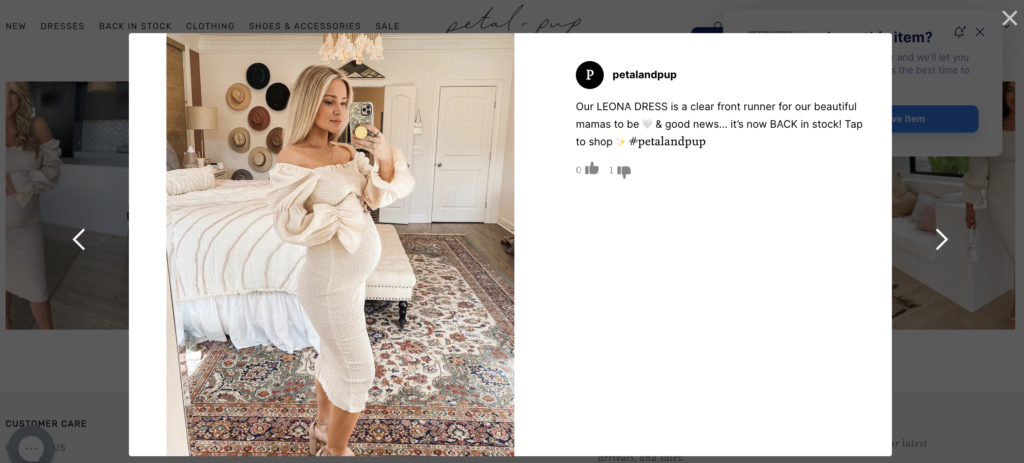 As you can see, Momnfancy stole the pictures from Petal + Pup, which is a very reputable clothing brand.
Also, when you scroll down to the reviews section on that Momnfancy product page, you'll see that they created created fake photo reviews using photos that Petal and Pup's customers posted.
These reviews are all fake, but might easily fool shoppers who don't have experience with misleading brands like Momnfancy. Don't trust any reviews you read on their website. They might sound legit, but they likely hire English speakers to write fake reviews that seem real.
We only found a few genuine reviews on Momnfancy and all of these reviews complained about receiving items that looked drastically different than the photos.
Even for a couple of customers that did receive an item that looked like the photos, the quality was terrible or the sizing was dramatically off.
Almost all reviews mentioned that they received their shipment later than expected, even when customers paid extra for quicker shipping in order to receive the item for a special occasion.
On top of this, the Momnfancy return policy is one of the worst we've seen. You only have 7 days to return your items and many shoppers report customer service being poor and unhelpful when it came to returns.
You will also be responsible for return shipping fees, which can be costly since the company is located overseas. And when you do return your items, returns must be "reviewed" and are up to the discretion of the company.
We'd recommend avoiding this website (unless you're willing to take a risk and lose your money).
Bottom Line
Overall, we highly recommend avoiding Momnfancy. Please don't shop here!
Your order won't show up on time and you definitely won't get what you paid for. In every genuine review we read, shoppers received items that were far different than what they saw in the photos.
This is because Momnfancy steals photos from reputable brands and pretends to sell these items for crazy cheap prices, then sends you a random poor-quality garment that doesn't look anything like the photos.
To make it worse, their return policy is terrible and requires you to pay for return shipping, which can be expensive because you will have to send the garments back to China.
Momnfancy Alternatives
Instead of Monnfancy, check out these alternatives to find cute, affordable, and trustworthy maternity and baby clothing.
These stores have similar styles to Momnfancy, with plenty of gorgeous special occasion dresses. Some might be slightly more expensive, but there are also more affordable options that might be better for your budget.