Most cleaning products on the market have a common problem: they contain chemicals and cause unnecessary plastic waste.
Blueland is a company that believes this doesn't have to be the case and is transforming the industry. Their products are zero waste and don't use harsh chemicals.
But are their products effective and worth the cost? After analyzing customer reviews and trying out the brand ourselves, keep reading our 100% honest Blueland reviews for everything you know about the brand.
What is Blueland?
Blueland is a quickly growing company that creates refillable tablet-based cleaning products to help eliminate waste.
They don't use any single-use plastics, their boxes are recyclable, the packaging tape is paper-based, and refill packaging is compostable.
Started by Sarah Paji Yoo after becoming a mom and realizing how drastically cleaning products contribute to plastic waste, she set out on a mission to create effective and plastic-free cleaning products.
They have created a variety of cleaning products including a variety of cleaning sprays, hand soap, laundry products, toilet cleaning products, dish soap, dishwasher tablets, and have even started expanding into personal care products such as body wash.
How It Works
The biggest difference between Blueland and other refillable cleaning product brands is the fact that most of their cleaning products are tablet-based (or similarly, their dish soap is powder-based).
So instead of liquid-based cleaning products, they use small tablets that users mix with water to create the cleaning product.
For example, you can order a pack of three multi-surface cleaner refill tablets. Once they arrive, you place one tablet in a reusable spray bottle and mix it up with a certain amount of water to create your cleaning product. Once it runs out, you grab another tablet and repeat.
Tablets require less storage space, which means shoppers can buy in larger quantities and save money. For people living in smaller apartments, less space is required – you can simply store all your tablets in a small storage bin (or throw them in the junk drawer if that's more of your style).
On top of this, tablets result in a smaller impact when it comes to shipping. In fact, Blueland has been carbon neutral since 2020 and has been Climate Neutral Certified since 2021.
Blueland Reviews
We've searched the web high and low for Blueland reviews to see what real customers think about their products. Here's what we found (we sourced many from Reddit to get opinions from real customers).
NOTE: If you're looking for reviews on the Blueland website on specific product pages, go to the last pages of reviews to see the bad reviews. They organize their reviews to their own benefit by sharing bad reviews on the last pages.
"The dishwasher tablets work perfectly. The hand soap while takes a while to dissolve but works great once it does. The dish soap works great but I end up with clouds of dust and coughing more than I would like. The laundry tablets don't always dissolve, I have to break them into pieces before I put them in." –apollopuppy on Reddit
"I like their cleaning sprays and dish soaps, but the laundry tablets don't clean at all. Overall I like the brand though!" –medicated-dreams on Reddit
"I've tried all of their products. I like the sprays and hand soaps and sink soap. The dishwasher tablets are probably useful if you have a good dishwasher. I have a pretty old one and despite multiple attempts, the only thing that cleans efficiently in it is Cascade. The laundry tablets, likewise, are probably fine in some washers but don't clean well enough in mine. So after using up all the dishwasher and laundry tabs, I've been trying out other things. Their other products I love though. Especially the hand soap and powdered sink soap." –joyisyourbirthright on Reddit
"All three of the bottles from my starter kit broke within a week and none of them were dropped. It's a shame the bottles don't last because they have a really nice spray nozzle, but the container itself has a big clearly visible seam, and the cleaners themselves seem to be enough to dissolve the adhesive and split the bottles in two." –xanderflood on Reddit
Pricing Review
Rating: 9/10
While many zero-waste brands these days are actually more expensive than buying mainstream products, this isn't the case when it comes to most of the products from Blueland.
Most Blueland tablets are actually cheaper than buying cleaning products from other brands. For example, here is the price breakdown for their multi-surface cleaning spray refill tablets:
$6 for a 3-pack ($2 per tablet)
$12 for a 6-pack ($2 per tablet)
$19 for a 12-pack ($1.58 per tablet)
Each tablet creates 24oz of their cleaning spray. To compare, Mrs. Meyers Multi-Surface Cleaner costs $4.29 for a 16oz bottle.
You can also get a 10% additional discount off your Blueland order if you sign up for a subscription.
Although you do have to find a bottle to use, many of the Blueland starter kits come with bottles (plus they are a better bang for your buck).
That said, these bottles have so-so reviews and many customers are disappointed by the quality, or they find cheaper bottles elsewhere. You could also just reuse a bottle from an old cleaning product.
Starter Kits Review
Rating: 8/10
If you want to try a variety of Blueland products, their starter kits are a great way to do so.
The prices are great, especially when you get into the larger starter kits like the Clean Suite Kit and subscribe to recurring orders to get an extra 10% off (you can cancel if you don't end up liking all of the products).
Some people don't end up liking the spray bottles, but you can return them if this is the case and find another alternative.
Depending on the starter kit you choose, you only pay $7 to $12 per reusable bottle, which isn't too bad, but you can save money by repurposing an old spray bottle from another cleaning product.
The only downside is that they don't offer any starter kits or multipacks that don't include the bottles. If you already have bottles you want to use, you'll have to buy a 3-pack or larger of each type of tablet you want to try, which can add up. But luckily, their return policy is excellent if you don't like some products.
That said, if you just want to try single tablets, you can try heading to The Container Store near you or search to see if Blueland tablets are available at any other stores nearby.
Cleaning Sprays Review
Rating: 7/10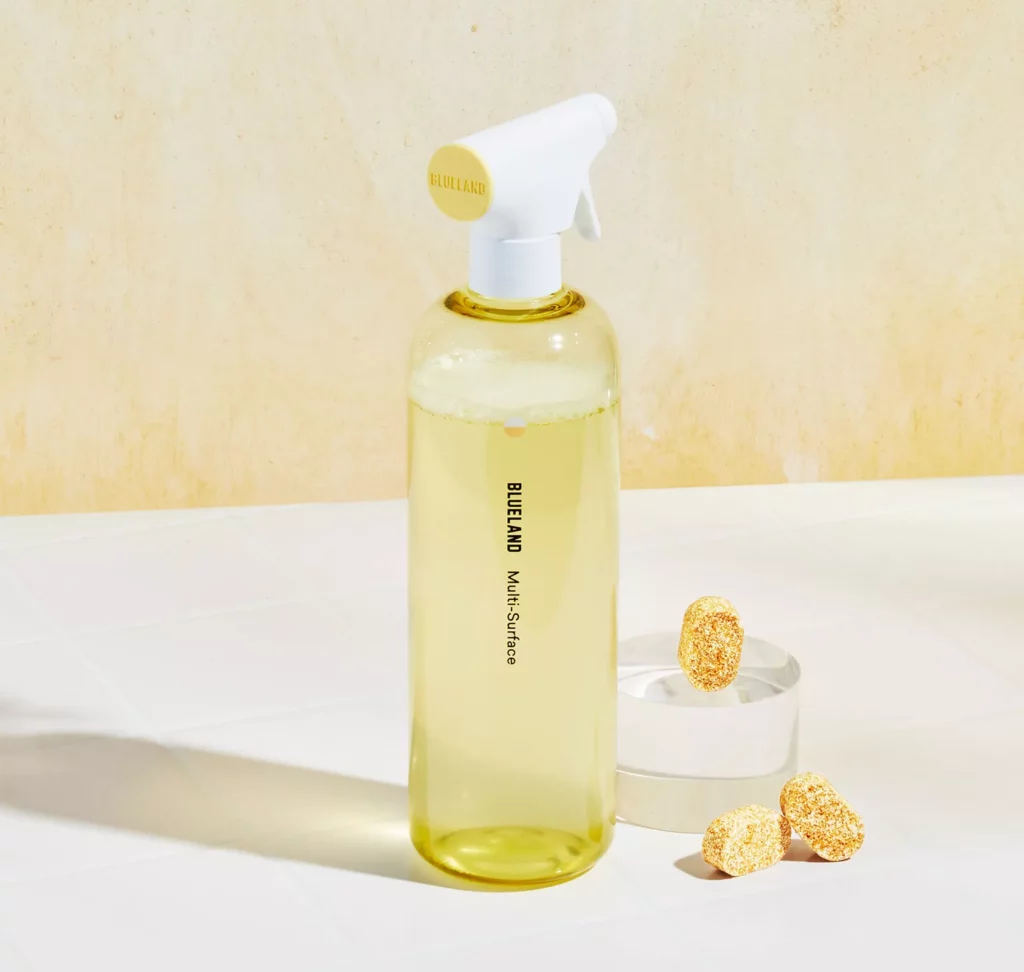 Most of the Blueland cleaning sprays have excellent reviews, except for the glass & mirror cleaner which has mixed reviews.
Some people complain about the glass cleaner being streaky.
However, other reviewers say that if it looks streaky, you just need to wipe more and then suddenly it becomes clear.
Another common bad review is about their reusable spray bottles. Many people have experienced them breaking (even if they don't drop them).
That said, most of these reviews are from over a year ago when they used acrylic bottles. They changed their bottles to the Tritan material and reviewers say these hold up much better.
Laundry Tablets Review
Rating: 6/10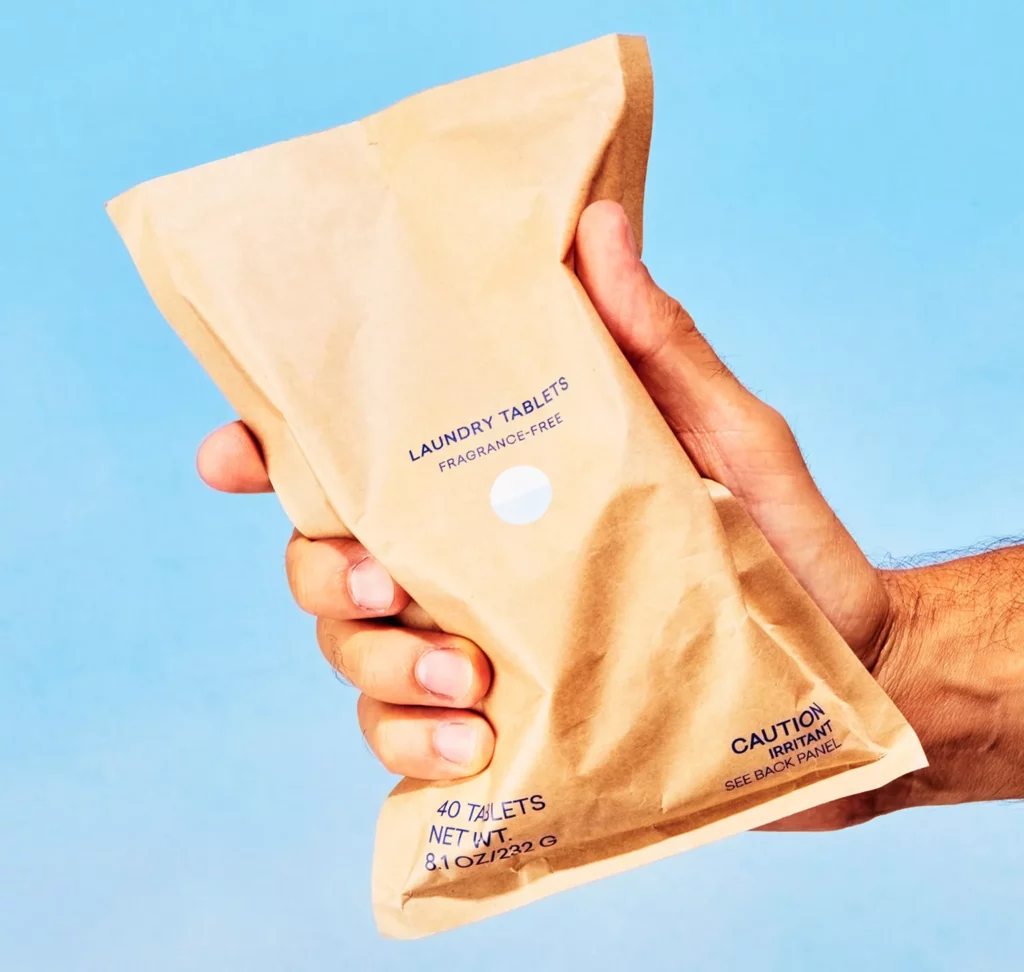 Unfortunately, laundry tablets seem to have the biggest complaints, so we'd recommend proceeding with caution when trying these out.
However, some reviewers had a great experience with them, so we're estimating that your success will depend on your washing machine.
Powdered Dish Soap Review
Rating: 6/10
The dish soap is one of their only powder-based products rather than tablet-based. It's also unique because you sprinkle the powder directly onto your sponge to use rather than mixing it with water beforehand.
Overall, the dish soap has great reviews as far as effectiveness goes, plus reviewers love how bubbly the soap gets and love how well it cuts grease. It's not streaky and a little goes a long way, so this powdered dish soap is a great bang for your buck.
However, the most common negative feedback involves the powder creating a dusty cloud when poured into the reusable bottle and making users cough.
Luckily you won't be breathing in bad chemicals since Blueland doesn't use harsh ingredients, but the powder may still make you cough. And it likely isn't good to have foreign particles in your lungs, regardless of how many chemicals are involved.
Some customers also wish that the dish soap powder was available in different fragrances – they only offer an unscented version at the moment.
Aside from this, a few users comment that the dish soap feels gritty on their hands while cleaning. Since you sprinkle the powder directly onto your sponge, it's definitely a new concept to get used to. But if you can get past that, it's an effective product that might be your new holy grail.
Dishwasher Tablets Review
Rating: 7/10
The dishwasher tablets are another Blueland product that has mixed reviews.
Some users absolutely love them, but a few don't have great experiences. It seems like the tablets don't dissolve well in some older dishwasher models, even when users tried to break them up. This resulted in foggy or streaky dishes that still looked dirty.
However, they do an excellent job at cleaning dishes and don't leave streaks when used in many dishwashers.
Unfortunately, it seems like you're out of luck if you have an older dishwasher that doesn't cooperate well with Blueland tablets.
Even if you do have an older dishwasher, you might want to give it a shot as some reviewers state that they work with their older model.
Foaming Hand Soap Review
Rating: 8/10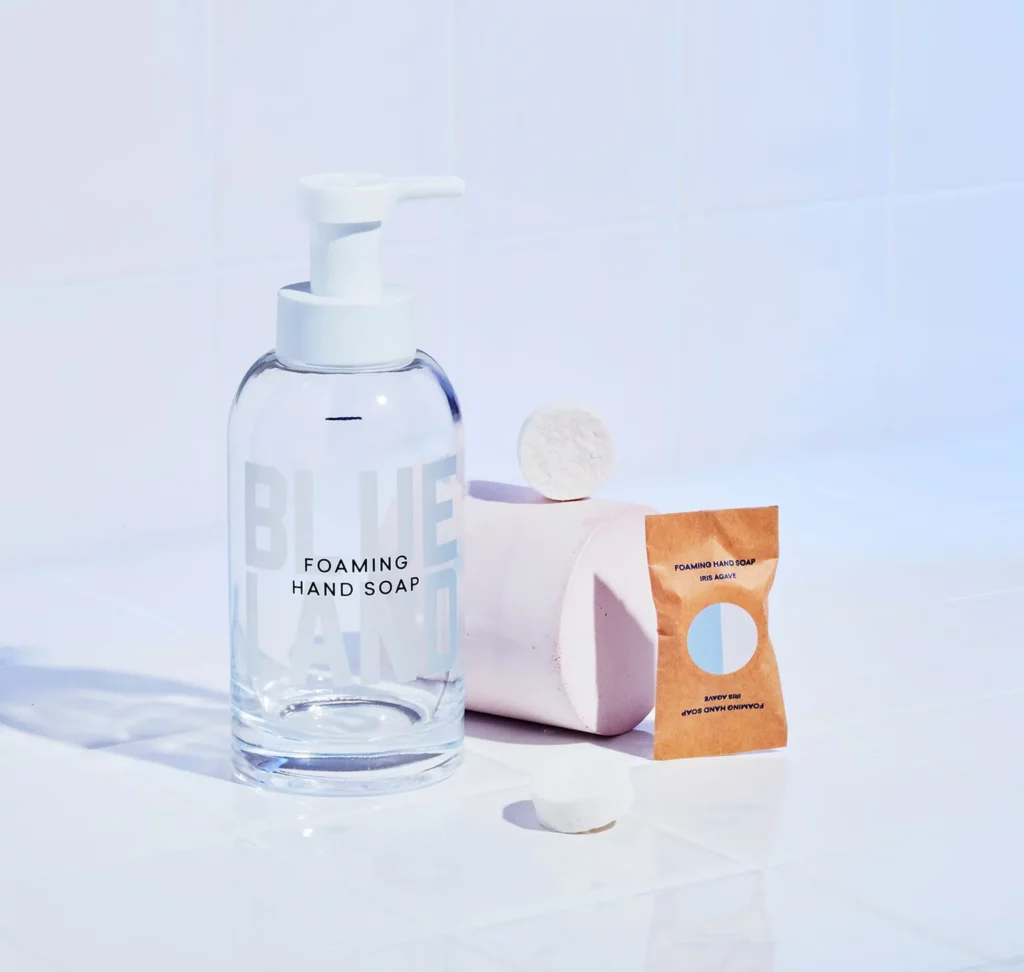 The hand soap products seem to have the least negative reviews of all the Blueland products.
Users love that the soap smells great without being overwhelming, foams well, and does an excellent job at cleaning without drying out your hands.
They offer a variety of scent options (including seasonal scents), plus the glass jars feel high-quality and look nice on the countertop if you opt for a starter kit that includes the foaming soap dispenser.
There were only a few bad reviews involving users who had issues with the soap pump.
Toilet Cleaner Tablets Review
Rating: 5/10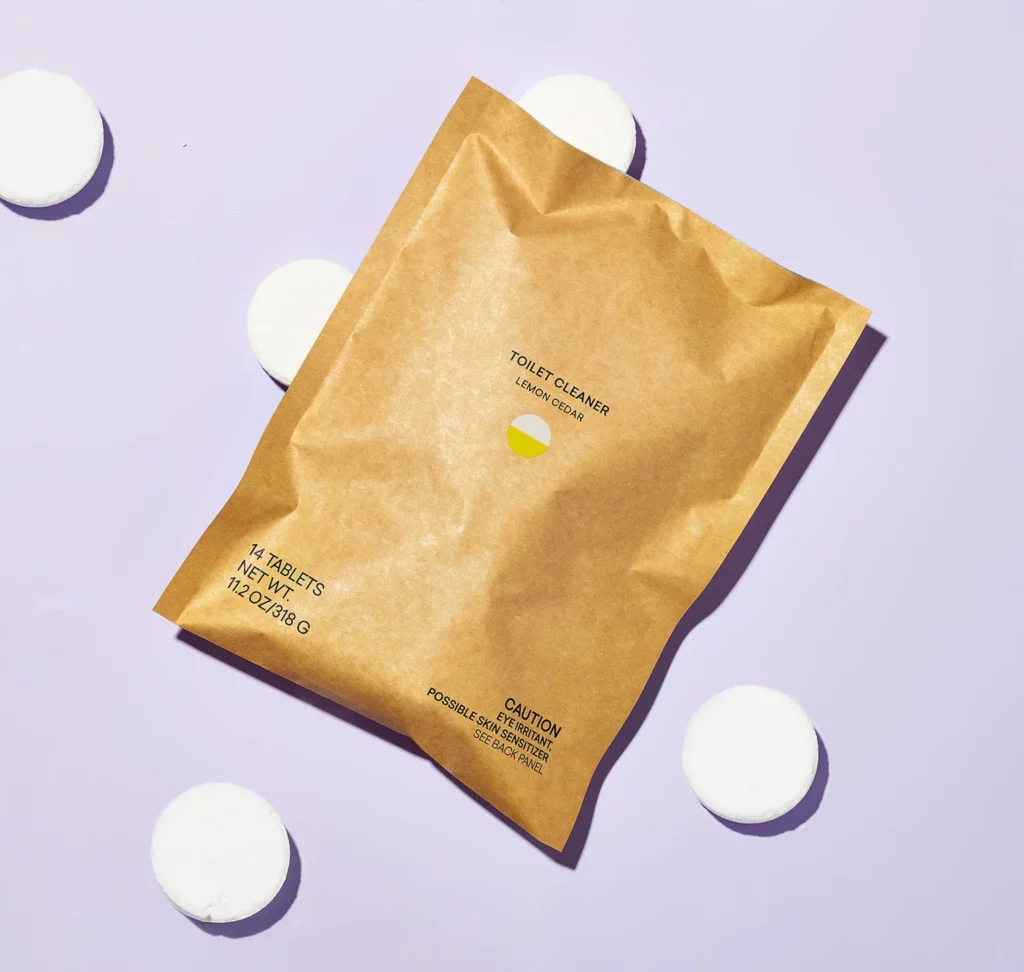 The toilet cleaner is another Blueland product that has so-so reviews.
Some reviewers state that it's easier and less messy than liquid-based toilet cleaner (you simply drop a tablet into your toilet, let sit, and then scrub).
It's made with 100% natural essential oils, which users say makes the bathroom smell great.
However, there are some bad reviews, mainly involving users who tried cleaning dirtier toilets and didn't experience great results with these tablets.
Many people said it was fine for toilets that weren't very dirty, but didn't do a good job cutting grime or getting rid of brown buildup.
Another user complained about the price, stating that the main ingredients in these tablets are baking soda and lemon, which they can buy for much cheaper at the store.
Their toilet cleaner is the only product from Blueland that doesn't seem to be a better price than similar mainstream products that come in plastic containers.
A one-use tablet costs around $1 each, which is pretty expensive compared to most of their other cleaning products that cost $2 or less to make an entire bottle of cleaner.
Body Wash Review
Rating: 7/10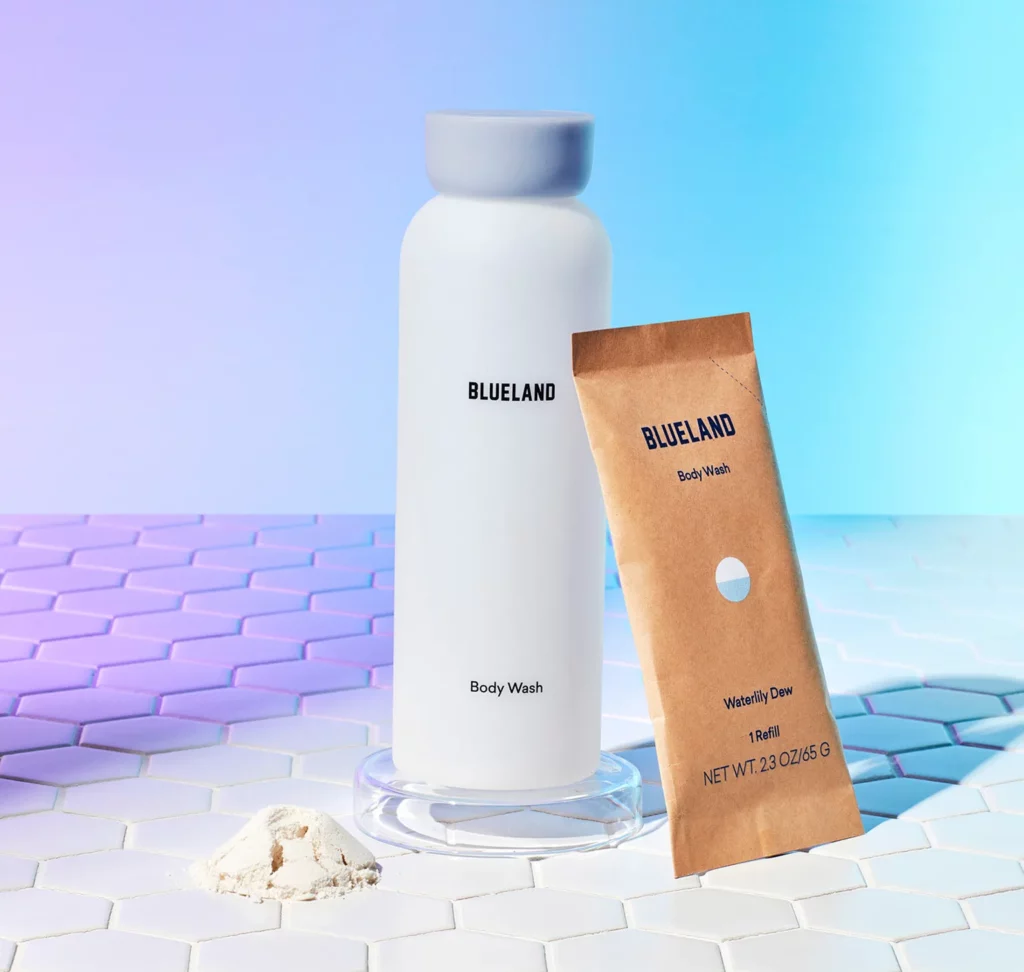 One of their newer products, the powder-to-gel body wash is Blueland's first attempt to expand into personal care products.
So far, it has pretty good reviews.
People loved the various scent options, but some wish they offered an unscented version for those with allergies or sensitivities to fragrance.
The main complaint involves the suds – most reviewers wished the body soap lathered better.
Although it is a better bang for your buck than other body washes of a similar size from natural brands, many users reported that they had to use more soap than they would normally because it doesn't lather well.
Blueland Pros & Cons:
Pros
Products smell great with seasonal scents available and fragrance-free options
Products are zero-waste
Aesthetically pleasing, minimalistic bottles
Tablets are cheaper than regular cleaning products
Most users are happy with the majority of their products
Free shipping over $45
Free returns within 100 days if you don't like it
Save 10% with a subscription
More affordable than purchasing regular cleaning products
Tablets save space, allowing you to buy in bulk for better prices
Products are hypoallergenic
Hand soap bottles are made of glass
Created without harsh chemicals or volatile organic compounds (VOCs)
Cruelty-free, vegan, gluten-free, soy-free, pet-safe, and nut-free
Available at some local retail stores, including The Container Store
Starter kits save money and come with bottles, plus they allow you to try multiple products without buying a large number of tablets to start out
Cons
Dishwasher tablets are typically great, but usually don't work as well with older dishwashers and some don't like how crumbly they are
Laundry tablets seem to be the least loved product (they don't always dissolve)
The glass cleaner was streaky for some users, but some recommend wiping more to avoid streakiness
Some experienced bottle nozzles breaking as well
Toilet tablets don't seem to be worth the price
No starter kits that don't include bottles

$45 shipping minimum is high if you just need a couple of refill tablets
Bottom Line
To sum up our Blueland reviews, they are a great brand that we'd highly recommend trying out if you're looking to eliminate your waste when it comes to cleaning products (and save money while you're at it).
While some of their products aren't as effective as some customers would like, they have an excellent and flexible 100-day return policy in case you don't have the best experience.
Although the Blueland website does have a $45 minimum for free shipping, you might be able to find their tablets at local stores like The Container Store if you just want to try out their single tablets without spending that much money upfront.