Martie is an online store that sells surplus shelf-stable groceries without requiring shoppers to purchase a membership or recurring subscription.
Not only is Martie on a mission to reduce food waste, they're on a mission to reduce your grocery bill as well.
Is it too good to be true? Keep reading our 100% honest and unsponsored Martie reviews for everything you need to know about the brand (we even gave it a shot and spent $75 ourselves).
How Does Martie Work?
Martie is a fairly new company founded in 2021 that works with top brands to save food from going to waste and sells it for 40–99% less than MSRP price.
They focus on shelf-stable food items that are going to be thrown out because of overstock, rebranding, upcoming expiration dates, or because they are seasonal.
You can find all kinds of shelf-stable goods on Martie, even non-food items like baby supplies and household items.
Overstock grocery stores like Martie have been around in local areas for a long time (such as Grocery Outlet), but Martie is the first of its kind that has started selling online.
My Martie Review
Being someone who loves the convenience of online grocery shopping (Instacart was previously my best friend) but hates to spend the premium prices, I thought Martie was a dream come true when I stumbled across the brand.
I quickly placed my first order soon after I discovered it.
In total, I spent about $75 – here's my honest review of Martie.
What I Got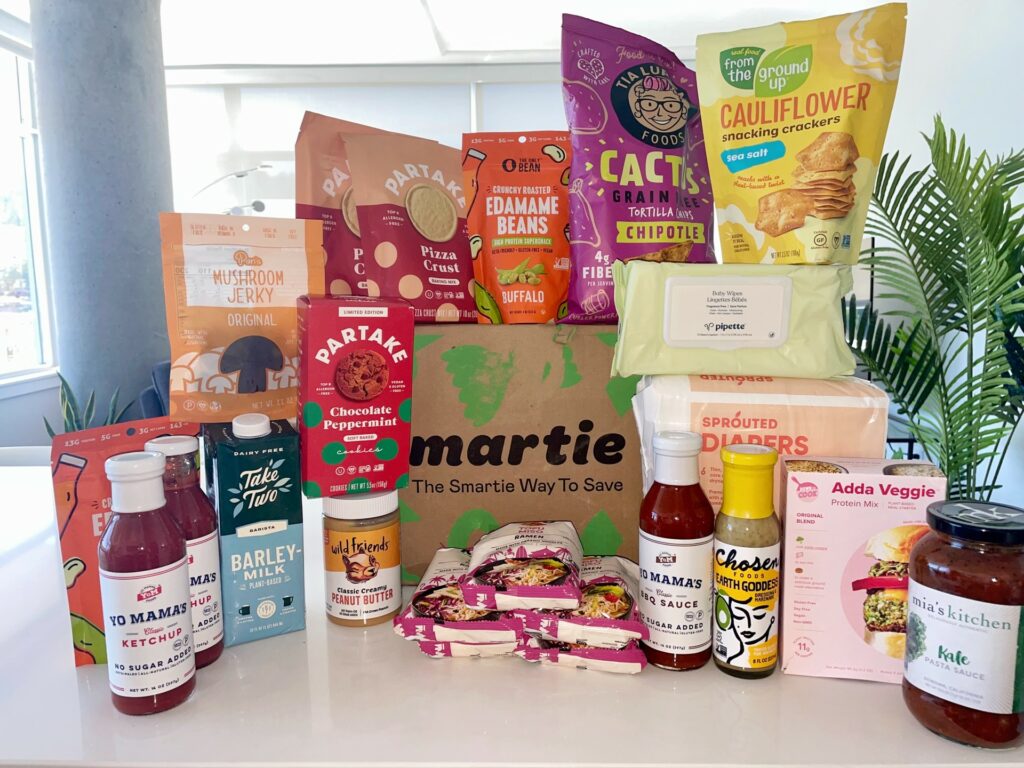 I purchased 27 items that came to a total of $75.76.
I got the following:
Mia's Kitchen Kale Pasta Sauce ($3.99)
Chosen Earth Goddess Dressing ($2.99)
2x Yo Mama's Keto Ketchup ($3.49 each)
Yo Mama's BBQ Sauce ($3.49)
Pan's Mushroom Jerky ($4.99)
From the Ground Up Cauliflower Cracker ($0.01)
Pipette Fragrance-Free Baby Wipes ($3.49)
Sprouted Hypoallergenic Diapers ($7.99)
Take Two Barista Barley Milk ($2.99)
Evian Grapefruit & Basil Sparkling Water 6-pack ($3.49)
Evian Cucumber & Mint Sparkling Water 6-pack ($3.49)
Evian Lime & Ginger Sparkling Water 6-pack ($3.49)
2x Tia Lupita Chipotle Grain Free Chips ($1.99 each)
Adda Veggie Original Blend Protein Mix ($3.99)
2x Partake Pizza Crust Mix ($3.99 each)
Partake Soft Baked Peppermint Cookies ($3.99)
5x Koyo Tofu Miso Ramen ($0.79 each)
2x The Only Bean Buffalo Roasted Edamame ($2.49 each)
Wild Friends Creamy Peanut Butter (FREE GIFT)
Shipping
Rating: 4/5 ⭐️⭐️⭐️⭐️
My order from Martie came quicker than I thought it would!
My package was at my doorstep just 2 days after placing my order. Plus, shipping was free.
They always offer free shipping on orders over $50 (which was easy to reach) or shipping costs $7.99 for orders under $50.
They're also currently offering free shipping on your first order for new shoppers.
Everything was packaged using recyclable materials, which was another bonus. Even the glass items were wrapped in paper rather than plastic bubble wrap.
Unfortunately, they only ship to the west coast of the USA at the moment, so I took off a star rating because of this.
Pricing
Rating: 5/5 ⭐️⭐️⭐️⭐️⭐️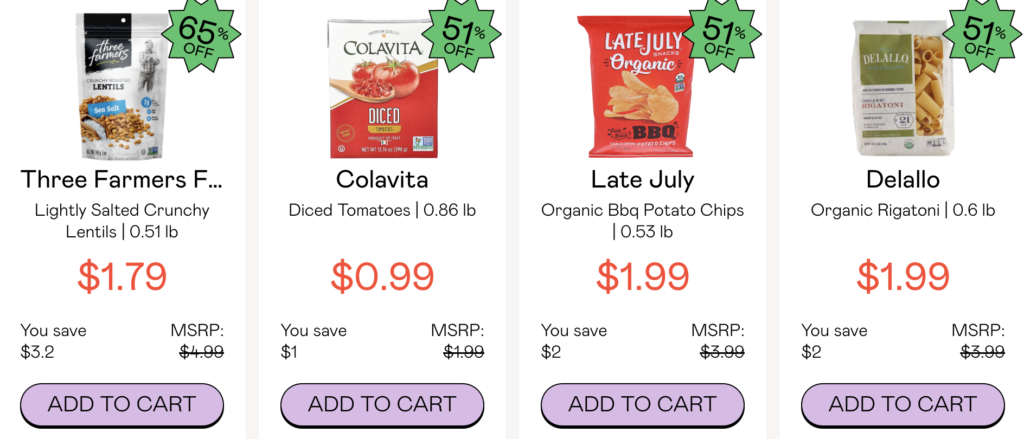 I was impressed by the discounted prices on Martie.
Most items are very affordable and the discounts are great, with plenty of 50% or higher discounts off MSRP.
To make it even more exciting, they also have free gifts when you spend a certain amount and "today's deal" items that are listed for just 1 cent.
In my order, I got the cauliflower crackers for 1 cent and got a free full-sized jar of peanut butter with my order because I spent $75.
They also have bundle deals. For example, right now they have a Fourth of July bundle with 8 essentials worth over $45 for just $25.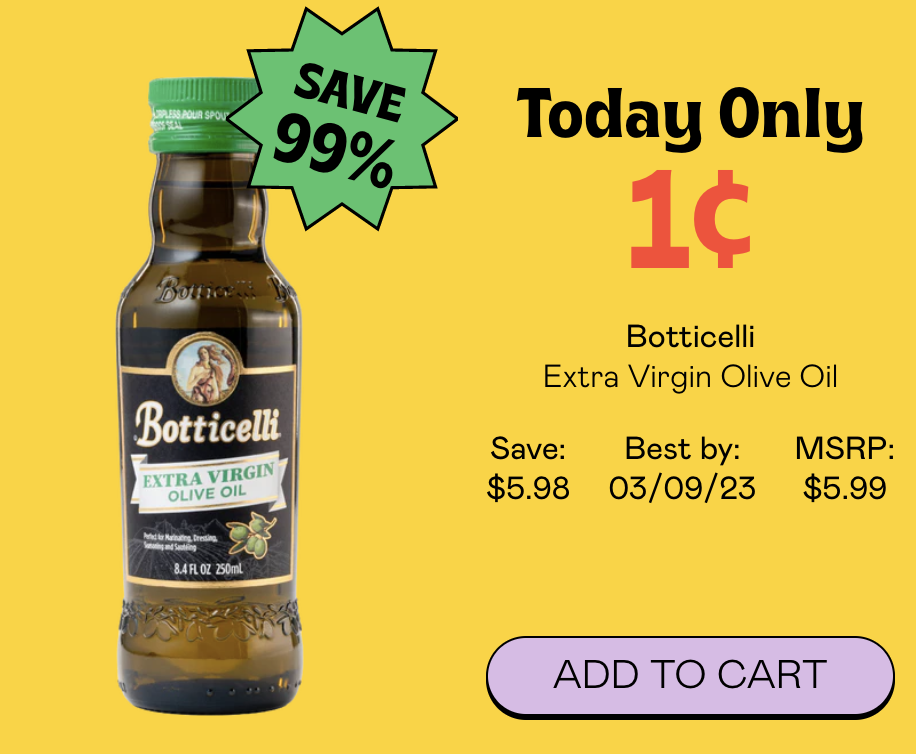 Shopping Experience
Rating: 4/5 ⭐️⭐️⭐️⭐️⭐️
I had a great experience shopping at Martie.
The platform is cute and easy to navigate, with plenty of fun categories to browse through like "just landed" and "last chance" items.
You can also browse their entire selection and browse using different sorting filters, like price low to high or newest items.
The browse pages show everything you might want to see including the price, MSRP, and a box at the top right showing the percent it's discounted.
Another huge perk about Martie is the fact that they share the ingredients list within each product listing.
Since I'm plant-based, I always make sure to read ingredients and they make it extremely easy to check this – no need to attempt zooming into the photos or Google the ingredients.
You can also view the "best by" date on the product page.
I also love that Martie doesn't require any type of subscription or membership to shop on their platform.
The only reason I took off a star is I wasn't able to filter my search to just vegan items (or other food allergies).
When I searched "vegan" in the search bar, it only came up with a few results of items that actually had "vegan" in the name or product description.
This wasn't a big issue as I just searched through all the products and read ingredients lists if I wasn't sure. However, it might have saved a little time if there was an ability to search only vegan items and show everything that's vegan (including basics like dry beans and rice).
Product Selection
Rating: 4/5⭐️⭐️⭐️⭐️
I was pleased to see that Martie had just about every shelf-stable product you can offer, plus other categories as well.
I have only shopped once so far, but they had a wide variety of options when I did.
That said, their inventory changes frequently, so they might not always have such a fabulous selection.
The only thing that would make their product selection better would be adding refrigerated and frozen products, but this also makes shipping a bigger hassle, so I understand why they don't offer this.
Martie also offered a variety of brands, including some I already knew about or had heard of before as well as some I had never heard of before and was excited to try.
Martie Review Summary
To summarize it all up into a smaller list, here were my main notes from shopping at Martie:
Wide variety of brands and product categories

Offers shelf-stable foods as well as household, personal care, and baby products
Free shipping on orders $50+
Currently only ships to the USA West Coast
Great deals on top brands, often 50% off or higher
Extremely fast shipping (my order arrived in 2 days)
Cute branding and easy-to-use website
Used 100% recyclable packaging for my order
Offers daily 1-cent deal and free gifts with certain order amounts
Only offers shelf-stable goods, not fresh produce or refrigerated/frozen goods
Shares photos and full ingredients list in every product description
Offers specialty food items (like vegan, gluten-free, keto)
Bottom Line
To sum up our Martie reviews, I love the concept of this brand and had a great experience with my first order. I will absolutely continue to shop here.
Since I live in a neighborhood where I need to drive a bit to a grocery store, this is a great alternative to overpriced Instacart and other grocery services to get my shelf-stable goods. On top of this, shopping at Martie helps minimize grocery waste.
I do wish they would expand to fresh produce and refrigerated/frozen goods, but this is likely much more difficult to ship – I'm just grateful they have such a great selection of shelf-stable products.
How does Martie compare? The only similar brand I've tried is Imperfect Foods and I would say Martie has a wider selection of shelf-stable items as well as overall better discounts. However, Misfits does offer produce and refrigerated goods.