Having insects in your home is the worst, but luckily there are plenty of pest control products that can help combat bugs without needing to pay top dollar for an exterminator.
BugMD is a brand dedicated to non-toxic pest control products that aren't made with harsh chemicals. They claim that their products are safe for people, pets, and the environment – but do they actually work?
We've done the research for you. In our BugMD reviews, we will be breaking down everything you need to know about this brand and if you should give their products a try.
What is BugMD?
BugMD offers a wide range of non-toxic pest control products that are healthier for people and pets, as well as better for the environment.
Their product line includes moth traps, pantry pest traps, pest concentrates, bug spray, flea & tick spray, bug-zapping light bulbs, and quite a few more options.
When shopping on their website, you can sort by the type of bug you're trying to get rid of or the type of product you're looking for.
They also offer a few starter bundles for discounted prices in case you have multiple pests you need to get rid of.
They offer free shipping over $50 and everything is cruelty-free. You can also shop BugMD on Amazon.
Return Policy
When considering purchasing a new brand, it's important to consider their return policy in case they don't work out for you.
Unfortunatedly, BugMD's return policy isn't the best.
Luckily, they do allow returns within 30 days of the purchase date in case something doesn't work out.
But, according to their website, shipping costs and coupons won't be refunded.
On top of that, they also charge a restocking fee of "up to 15% retail value of the product ($5 minimum)" if you're returning an item that's not defective.
Alternatively, they can offer you 90% of your purchase price in store credit (the $5 restocking fee will still apply).
Overall, returns can get expensive from this brand, so we'd recommend shopping for their products on Amazon if you really want to try them out since you can make easy and free returns as long as you purchase a Prime eligible product.
BugMD Reviews
Our Rating: 6/10 ⭐️⭐️⭐️⭐️⭐️⭐️
So, what do real customers think about this pest control brand?
The biggest red flag we found is that on BBB, BugMD received an average of 1.17 stars out of 5 stars from 69 customer reviews.
While this sounds pretty bad, the brand does respond to some of these reviews apologizing for the inconvenience and offering a refund.
Also, most reviewers on BBB complain that they were unknowingly signed up for a subscription when they placed their order, which doesn't seem to be an issue any more.
When we visited their website, BugMD makes it very clear that you can either make a one-time order or start a subscription. They likely changed their website since receiving bad reviews.
It's important to note that BBB typically has more negative reviews than other platforms since the majority of people visit this website to make complaints rather than leave positive reviews. Because of this, we made sure to research on other platforms as well.
On Amazon, BugMD products have decent reviews and have worked for many users.
However, this depends on the product – some of their products seem to have better feedback than others overall.
Another thing that caused us to be weary of BugMD is the fact that they use clove oil in some of their spray products, which is toxic to cats. They advertise their products as non-toxic and pet-safe. Because of this, we wouldn't risk using this brand around your pets.
If you're still interested, we'll be breaking down top products from BugMD and what real shoppers think about them.
The Pantry Pest Control traps and the Clothes Moth Boss traps seem to have better reviews than the BugMD concentrates and other products.
Both use pheromone-infused glue to capture clothes moths or other bugs and keep them out of your home.
The packs come with 6 traps that you simply place inside your pantry and wait for the bugs to crawl inside to be captured.
For Clothes Moth Boss on Amazon, there are 73 1-star ratings and 364 5-star ratings. Clearly, these traps worked for some people and didn't work for others.
Most of the negative reviews shared that they didn't work at all, not catching any moths after they tried using multiple traps. For some people, this was the case even after months of them sitting in their closet.
However, there are also many positive reviews that claim these traps worked very well for them and got rid of most (if not all) of their clothes moths.
People also raved about these traps having no smell, unlike mothballs and other moth deterrents. They also loved how easy they are to use – you just put them in your closet or pantry and let them go to work.
According to BugMD, their concentrate fights 46 household insect species and can be used in a variety of different ways. This concentrate is most likely their best-selling product.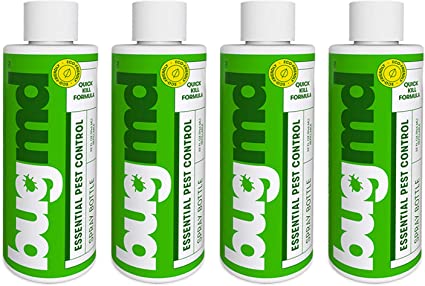 Similar to their other products, some users had good experience with the concentrate whereas others said it didn't work to get rid of bugs.
On Amazon, there are 2,400 5-star reviews and 556 1-star reviews.
First off, we are a little concerned with the ingredients as many essential oils are toxic for pets. We looked a little deeper and noticed they use clove oil in their mixture. A quick Google search shows that clove oil is toxic to cats.
Because of this, we would be hesitant to purchase any BugMD products that will be used around pets until we see further research that shows their formulas are truly safe for pets.
Aside from this, some people complained that the bottle of concentrate was smaller than expected and they only were able to make a small bottle of spray with it.
Others said it did a decent job at getting rid of bugs, but the price tag was too high for it to be a regular product they use in their household.
We noticed that many negative reviews involved people who were trying to get rid of cockroaches, which are very difficult to get rid of without an exterminator.
Other reviewers said that it did a good job at getting rid of bugs, plus they state that it smells nice without being overwhelming.
Some reviewers also dislike that the BugMD empty spray bottles are fairly expensive at around $10 per bottle.
Instead, most people use a bottle from an old cleaning product or purchase a more affordable empty spray bottle.
Fleas and ticks are another pest that nobody likes, which is why BugMD made a spray specifically to combat these bugs.
This product comes in a concentrated form that you quickly dilute with water to create the spray.
You can apply it to pet bedding, play areas, kennels, and any other surfaces that fleas or ticks may encounter.
On Amazon, this product has only 29 1-star reviews and 161 5-star reviews, so it seems to be well-liked overall.
One complaint we noticed is that the buyer wasn't aware that it doesn't come with a reusable spray bottle unless you buy the starter kit. If you just buy the concentrate, you'll need to find a spray bottle to mix it into.
This bug-catching station is designed with a light that attracts bugs and traps them once they fly inside.
They claim this trap works with fleas, ticks, spiders, moths, and more.
Overall, this is another product from BugMD that seems to have so-so reviews. Some reviewers state that it did a good job catching bugs in their home, whereas others saw no results at all.
On Amazon, there were a total of 332 1-star ratings and 589 5-star ratings.
Reviewers that had positive experiences stated that the blue light setting seemed to work best.
Most reviewers complained about the size, stating this product was much smaller than they expected.
People also disliked that you need to buy refills once the original traps lose stickiness or run out of space, which is a recurring cost.
This indoor bug catcher traps bugs using UV-A and Blue LED lights to attract pests without needing any chemicals.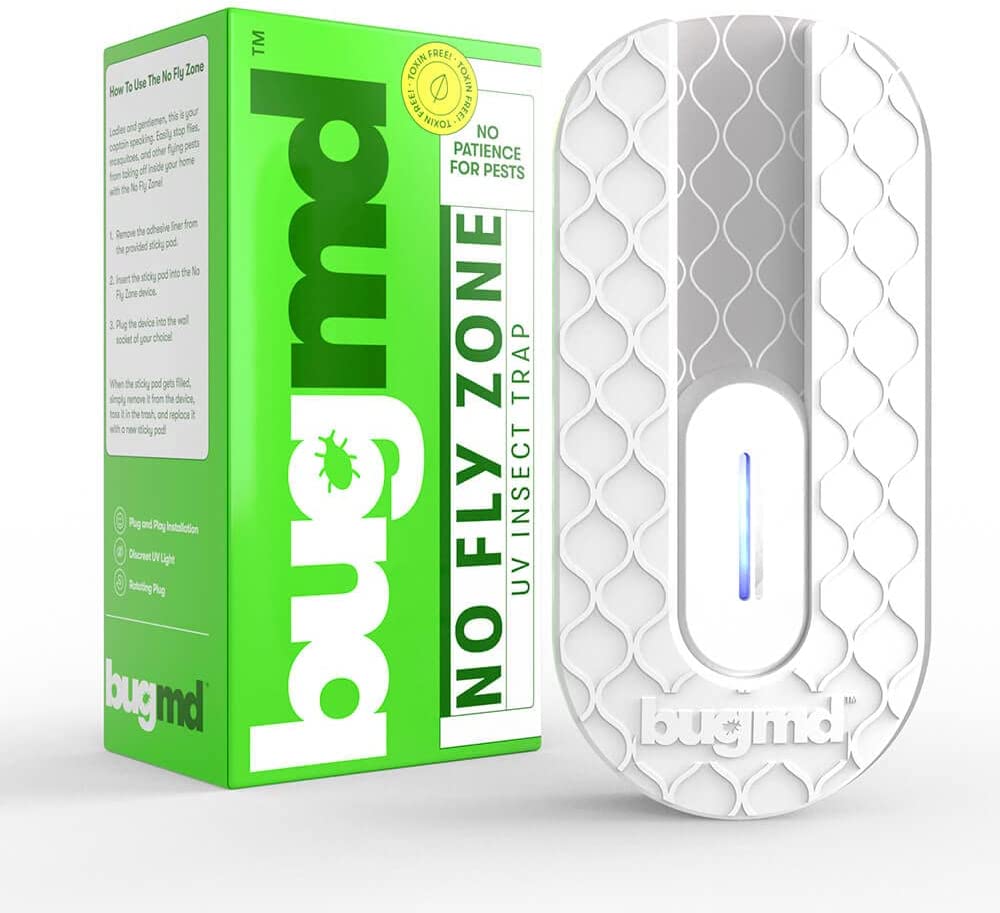 Overall BugMD Feedback
To sum up our review, BugMD could be an effective brand for eliminating bugs in your home.
After searching through hundreds of reviews, feedback seems to be torn – most of their products work for some people, but not for others.
While their products are more expensive than some other brands out there, they are a nontoxic brand that doesn't use harsh chemicals and is safe to use around pets (plus, better for the environment).
We would also recommend proceeding with caution if you have pets. Although they state that their products are nontoxic and pet-safe, we noticed that they state that clove oil is used in their Flea & Tick spray as well as their Essential Pest Control.
A quick Google search shows that clove oil is toxic to cats, so we wouldn't trust any BugMD products around our pets because of this.
The biggest downside is that their return policy is pretty bad when shopping through the official website, so we recommend purchasing through Amazon if you really want to try this brand. Just make sure you're picking one of their products that is fulfilled by Amazon in order to get free returns!
Review Roundup:
They claim their products are safe to use around pets and kids
Some of their spray products use clove oil, which is toxic for cats (because of this, we'd be hesitant to trust any of their products around pets)
Friendlier to the environment
Higher price point than many other pest control products
Moth Boss and Pantry Traps are easy and effective for most customers
Other BugMD products, like their sprays, seem to be a hit or miss
Return policy on their website isn't very good, we recommend shopping through Amazon if you do decide to buy