It can be hard to find good clothing stores for men, so you might be excited to come across Broswear. This clothing brand offers a wide variety of trendy men's clothing (including matching sets, graphic tees, and plenty of other items).
Although the store might look great on the surface, you shouldn't buy just yet – keep reading our Broswear reviews to see if this brand is legit and worth spending your money on.
Quick Overview: Based on genuine Broswear reviews, we DO NOT recommend shopping here. Customers experienced terrible product quality, items don't look like the photoos online, and their customer service is unresponsive.
Click here to jump down to our list of reputable alternatives that we'd recommend shopping at instead.
What is Broswear?

Broswear is an online clothing store dedicated to trendy clothing for men. Their styles vary, but they offer a large number of streetwear-inspired styles.
Prices typically range from $25 – $50 depending on the type of garment. They also offer free shipping on orders over $99 and typically offer some sort of deal.
They claim to use "environmental-friendly fibers" such as carefully-selected recyclable and renewable natural fabrics such as pure linen.
Is Broswear Legit?
No, this brand is not legit. Although they ship your clothing, the items received are very poor quality with inaccurate sizing and do not look anything like the photos advertised on their website. And when customers tried to contact customer service to initate a return, their team was completely unresponsive.
Real Broswear Reviews
What do real shoppers think about this brand? Unfortunately, the reviews are bad – here is a summary of the ratings from various online platforms.
1.4-star rating based on 178 reviews on Trustpilot
1.3-star rating based on 35 reviews on Facebook
Most commonly, customers complained about poor fabric quality and very poor customer service that is nonresponsive once you let them know you want to make a return.
The sizing is also extremely inconsistent, either significantly too small or too large. Most customers stated that the items received don't look anything like the photos, more like a poorly made knock-off.
This makes sense – a quick look at their website makes it clear that their clothing photos are photoshopped onto the same few models. The faces are also cropped out, which is a red flag that the model photos were stolen from a reputable brand or influencer.
Aside from these complains, orders also took 4–8 weeks (or even longer) to arrive.
Broswear Review Quotes
If that wasn't enough to convince you, here are some quotes and snippets from customer reviews online.
---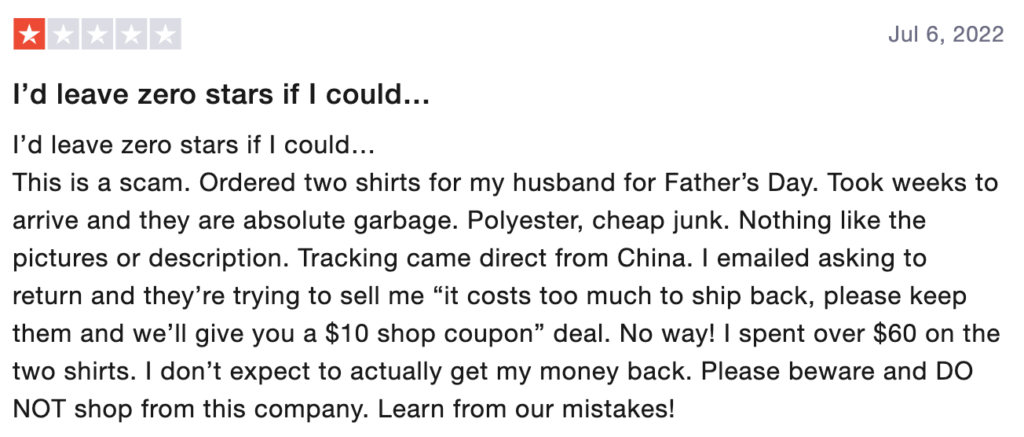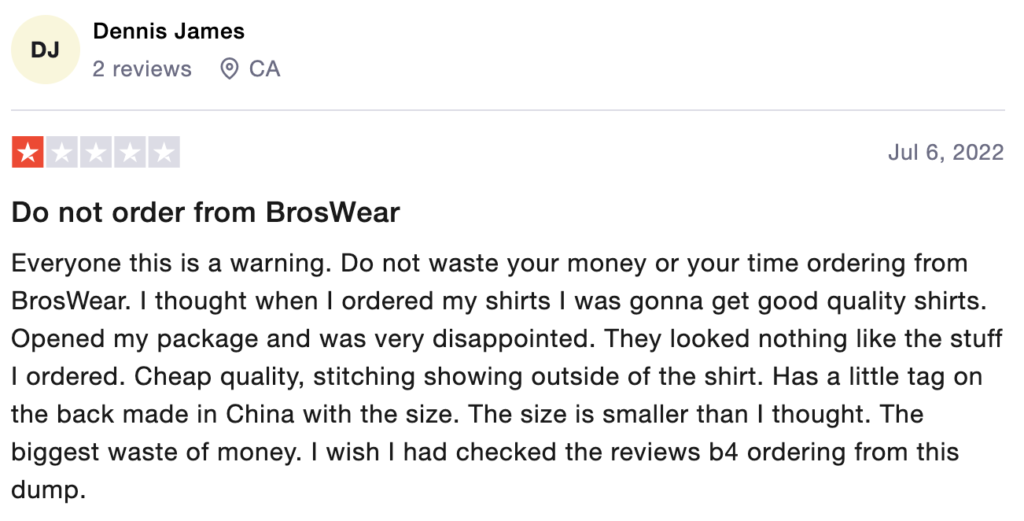 Overall Consensous
At the end of the day, we do not recommend shopping at Broswear.
They use false advertising and you will likely receive poorly made items that don't fit and don't look anything like the photos online. Then, you'll be ghosted by their customer service when you try to complain or make a return.
Broswear Alternatives
Luckily, there are a wide variety of trustworthy stores where you can find trendy and similarly priced men's clothing.