Deodorant is one thing we all need in our daily lives.
With so many brands out there, Megababe might have come into your awareness recently and you're wondering what the difference is. Deodorant is just deodorant, right? What's the hype about?
Today, we'll review everything you need to know about Megababe to see if their deodorant and other products are as great as they seem.
If you've been curious about this brand, keep reading our honest Megababe review to see if it might be your next fave.
What is Megababe?
Put simply, Megababe is a body care company that isn't afraid to talk about the issues that come with having a human body (namely sweat, odor, and chafing).
The brand was created in 2017 by model and entrepreneur Katie Sturino as a way to combat the shame and stigma that's often associated with these issues, especially surrounding women.
This brand has quickly become a cult favorite, especially among women who are tired of feeling like they have to just suck it up and deal with their problems.
All products from Megababe are:
Aluminum-free and talc-free
Made without parabens, phthalates, sulfates, and other potentially harmful ingredients
Vegan (no animal ingredients and not tested on animals)
Although they have a variety of product types, their three main products include deodorant, chafing sticks, and dust products for soaking up sweat. From underboob sweat to chafing, they've got you covered.
Let's take a closer look at some of the most popular Megababe products as well as reviews surrounding each product.
Megababe Product Reviews
The first Megababe product that comes to mind is their famous deodorant, which promises to keep you feeling dry and smelling fresh all day long.
The deodorant is aluminum-free, makes use of tea tree oil and baking soda to fight odor, and contains tapioca starch to absorb sweat.
It comes in a few different scents, two top-sellers being "Rosy Pits" and "Lemon-Aid", both of which are refreshing and not too overwhelming.
Honest Customer Reviews Say:
Overall, it seems that Megababe deodorant is a hit or miss.
Some people say it works well, some people say it works just okay, and some say it doesn't work very well at all.
For the most part, people say it works well for some or most of the day, but they still end up with some wetness after a few hours (and a little bit of stink for those who tend to sweat more often). That said, this seems to be the case for most all-natural deodorants that don't use aluminum.
While there are some not-so-great reviews because of this, it is important to note that their products are clean and made with natural ingredients, which means they might not live up to your standards.
If you've previously used aluminum-free and other natural deodorants, your body may already be used to them and may end up loving Megababe.
Many reviewers who try Megababe say it performs just as well or better than other clean deodorant brands on the market.
However, if you haven't yet made the switch from mainstream deodorants, you may end up disappointed.
Aluminum deodorants and antiperspirants tend to be more effective, especially for those who tend to sweat more than average. However, many people are afraid of the potential health downsides of using ingredients like aluminum and talc in deodorants. For example, there are some studies that suggest aluminum is linked with breast cancer.
Although there isn't enough evidence to say for sure, these suggestions are enough for many people to cut ties with these ingredients in their deodorant and other wellness products.
Also, reviewers love the smell of Megababe deodorant (and their other products as well).
Some users who have already used all-natural deoderant brands in the past say that Megababe quality is similar and don't recommend splurging on it when other brands are cheaper. That said, you may want to support Megababe and pay an extra few bucks if you resonate with what they stand for.
They do have a few different deodorant options, so we'd recommend taking their quiz to find the best fit for you.
Note: When making the switch, it's highly recommended to give a natural deodorant 2–4 weeks to allow your body to adjust from a traditional product.
Overview:
Smells great without being overwhelming
Great for those who already love all-natural deodorant in the past (or are willing to give it a try)
Won't perform as well as aluminum-based deodorant if you're used to these products
Does a good job for most users, but some end up with wetness and/or smell after a few hours
Similar quality to other top clean deodorant brands on the market
Unless you absolutely love their mission & branding, might not be worth the extra cost (other natural deodorant brands like Schmidt's are slightly cheaper)
Armpit odor sucks, but we can't forget about other sweat-related issues that don't have many products on the market to help. Chafing is one of these taboo problems that Megababe is on a mission to solve.
Megababe's "Thigh Rescue" is an anti-chafing stick that you can use on your thighs, under your arms, or really anywhere else you tend to get chafed.
It contains a blend of natural oils and butters to create a moisture barrier, as well as tapioca starch to help absorb sweat.
It's also totally mess-free (goodbye baby powder) and comes in a handy stick form that makes it easy to apply and easy to carry around if you need to reapply throughout the day.
Honest Customer Reviews Say:
Compared to Megababe's deodorant, people seem to rave about their Thigh Rescue product more frequently.
It seems that most people love it – it's hard to find bad reviews.
Shoppers love the quality, smell, and portable design that makes this product easy to throw into your purse and reapply throughout the day.
For anyone who suffers from thigh chafing, this product might be a game-changer for you.
The only complaint we could find is the price, but many shoppers believe it's worth the investment (plus, you can buy a mini size for a cheaper price to try it out before committing to the large size).
Overview:
Raving reviews
Effective against chafing
Travel-friendly stick that's easy to carry around and apply on-the-go
A little spendy, but lasts a while
Finally, Megababe's "Bust Dust" powder is perfect for anyone who struggles with sweat or odor in their chest area.
This unique powder contains tapioca starch to absorb moisture, baking soda to fight odor, and kaolin clay to absorb excess oil.
It comes in a handy shaker bottle so you can apply it directly to your skin, and it's totally invisible once applied. Plus, it has a light lavender scent that's refreshing and not at all overpowering.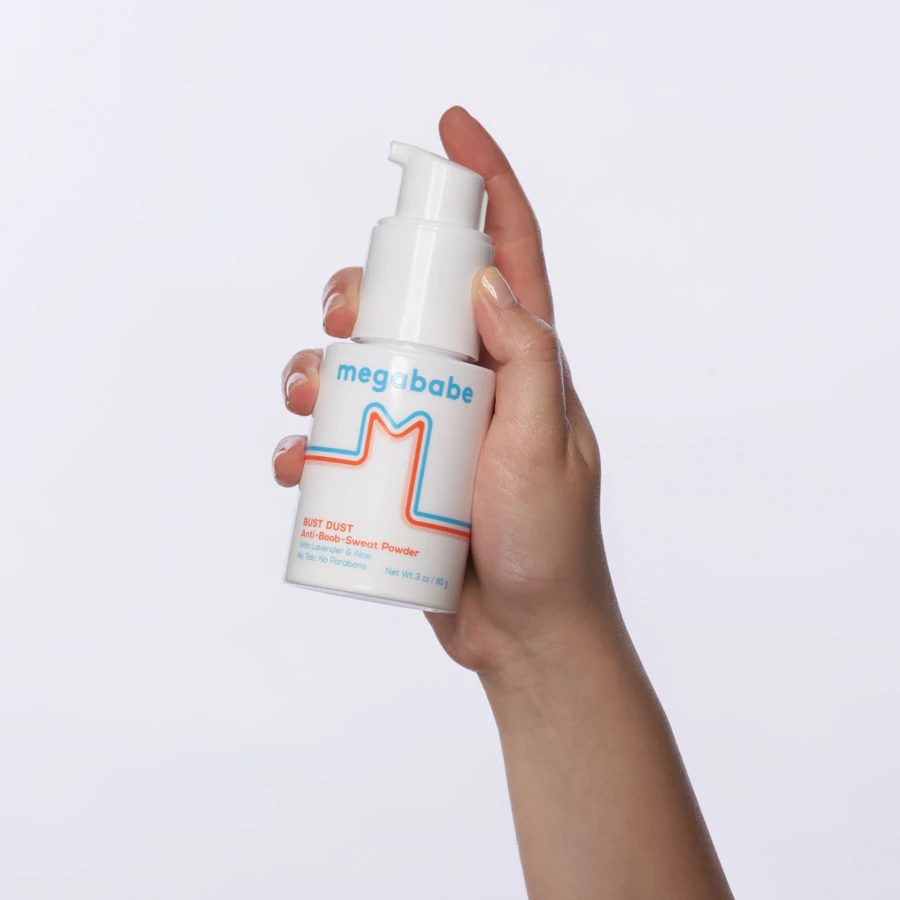 Honest Customer Reviews Say:
Like the Thigh Rescue, shoppers rave about the Bust Dust for helping tame underboob sweat without having to deal with a powdery mess everywhere.
Some reviewers say you can opt for a cheap powder like baby powder or tapioca starch to effectively soak up sweat and save money, but the Bust Dust offers a pump applicator that is mess-free and invisible.
Again, the only complaint about this product is the price, but many shoppers believe that avoiding the mess you'd make with other powder-based products makes the extra cost worth it.
Note: The Body Dust is double the size as the Bust Dust and is the same exact product, so it's a better bang for your buck. It can be used to refill your Bust Dust – we'd recommend buying the Bust Dust first because the Body Dust doesn't come in the convenient mess-free applicator.
Overview:
Raving reviews
Effectively soaks up sweat in the chest area (or other areas)
A little spendy – some recommend using cheap powders as an alternative
Users love the mess-free applicator and feel this is worth the extra cost
Portable and travel-friendly
Our Verdict
To sum up our Megababe reviews, we're impressed with the brand and what they represent. Although their deodorant has so-so reviews overall, their other products (mainly the Thigh Rescue and Bust Dust) have raving reviews all around.
We love that the brand is unapologetic about tackling women's body issues and that many of its products are actually effective for most people who use them.
Although their products are a bit more expensive than your typical drugstore deodorant, it's worth the extra cost for an effective and all-natural product made by a brand that's passionate about their cause.
However, when it comes to deodorant, they don't seem to blow other natural deodorant brands out of the water. Unless you're in love with what Megababe stands for and want to support them, you can go for another top natural deodorant brand and save a few bucks.