Finding quality plus-size clothing that is also affordable can be a huge challenge, so it's natural to be excited about a new brand emerging.
FlyCurvy is a brand that recently popped up on the radar. They are so new that there is very little to be found online, so we wanted to dive in and see if this brand is actually legit. 
Let's dive in.
FlyCurvy Reviews
According to their About page, FlyCurvy is a brand based in Guangzhou, China. They state that they only source reliable quality products, deliver orders with speed, and respond to customers within one business day.
However, this doesn't seem to be the case when we looked at FlyCurvy reviews and shopping experiences.
First off, the brand's website has excellent reviews, but we never believe these. Very often, brands showcase fake reviews on their website. 
There are only a couple of reviews on review platforms such as Trustpilot, but each one we have seen is a 1-star review. That's not a great sign. 
Most customers receive the items they order, but sizing is all over the place and the materials feel low-quality considering the prices. 
Customers also stated their orders took months to arrive (some are still waiting after 2+ months), and then when they wanted to return their items, it took a number of emails until the brand responded.
We also discovered that many of their photos are either stolen, photoshopped, or found across many other online stores. 
This means that, as we expected, FlyCurvy clothing is the same standard garments you can find on Aliexpress, Amazon, Walmart, and other platforms. Overseas manufacturers will make these in bulk and stores (such as FlyCurvy) will pop up trying to sell them for marked-up prices.
At the end of the day, FlyCurvy doesn't offer reliable quality (among other issues), so we wouldn't recommend shopping here. If you really like something from them, we'd recommend doing the reverse Google image search to find it on a different platform that might be more reputable.
Here's an example: when we reverse image searched this shirt on FlyCurvy, we found the same shirt on Amazon with lots of reviews and available through Amazon Prime.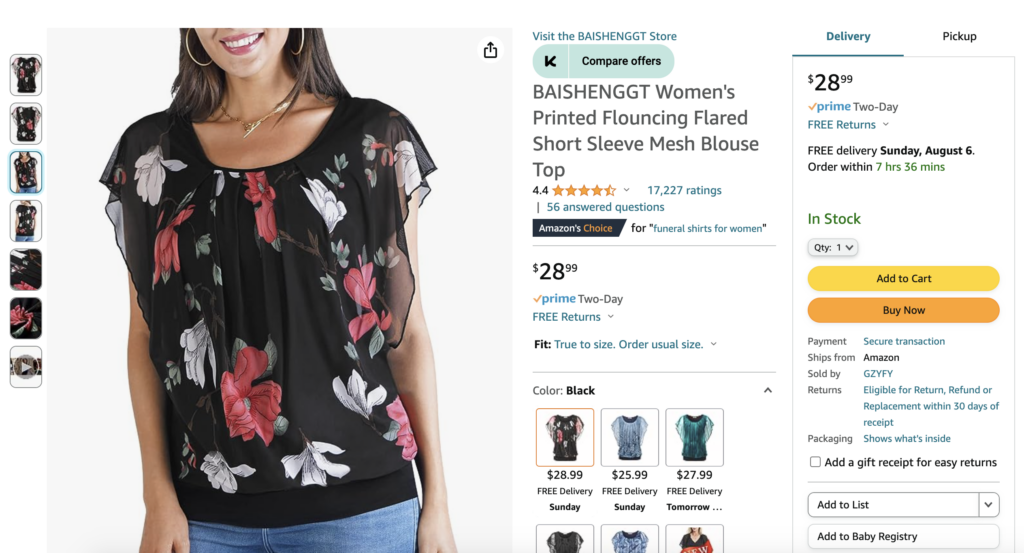 Although it's about the same price, buying this item through Amazon Prime will ensure that you can get your money back if the item quality or fit isn't as expected (which many customers have experienced with FlyCurvy). 
This also allows you to see if there are reviews for the specific item on Amazon. In this case, there are more than 17,000 reviews, which is pretty impressive.
Since quality seems to be all over the place with brands like FlyCurvy, it's better to rely on individual item reviews to see how other people have liked the item. 
If you have Amazon Prime and the item is available there, you can take advantage of their easy returns policy if it ends up being poor quality.
Also, in some cases, the photos on FlyCurvy are stolen from reputable stores. We have seen this with some scammy online stores where the brand uses stolen photos to showcase a well-made garment and entice customers, but then ships a lower-quality knockoff version of it that item.
Overall feedback on FlyCurvy:
Poor quality
Sizing is inconsistent
Some items didn't look like the photos
Orders take months to arrive as they ship from China
Difficult to initiate returns and get in contact with customer service
Photos are stolen or photoshopped
They sell standard items that can be found on Amazon, Walmart, etc.
Bottom Line
Overall, we wouldn't recommend spending your hard-earned money on this brand. There aren't too many FlyCurvy reviews out there, but the ones that do exist show big red flags.
Our biggest tip is that, if you fall in love with something on their website, do a reverse Google image search like we did above. Oftentimes, you can find the same item available on a more reputable website, such as Amazon.
FlyCurvy isn't selling anything special, their items are simply marked-up clothing pieces that are mass manufactured in China. 
FlyCurvy Alternatives
Don
Fashion to Figure – Based in New York, Fashion to Figure is a reputable plus-size brand with gorgeous clothing, especially their dresses. Prices are sometimes higher than FlyCurvy, but they also have frequent markdowns that can bring some items much lower. Overall, their quality is much more reliable since they work directly with their manufacturing. They also have an awesome clothing rental subscription that's worth checking out if you've ever been intrigued by renting clothes. 
Torrid – Although Torrid offers more basics and essentials, they are still a great place to find plus-size clothing at reasonable prices. Their prices typically range between $10 – $60 an item, so they are pretty comparable to FlyCurvy, but with much more reliable quality.
Aliexpress or Temu – FlyCurvy is essentially just selling the same items you can find on Chinese shopping websites like Aliexpress or Temu, so we'd recommend looking on those platforms. Again, the quality can be a serious hit or miss, but it's worth checking out if you're on a budget or can't find the same styles elsewhere. The upside is that many people shop on these platforms, so many items will have reviews from people who have purchased them. We highly recommend reading through individual product reviews before buying something on Aliexpress or Temu. 
SheIn Curve – We're going to be honest, we don't like shopping at SheIn due to the common quality issues and unsustanability of ultra-fast fashion items. However, if you're really on a budget, SheIn's Curve section actually has lots of cute clothing for awesome prices. Again, quality is a hit or miss, so definitely browse through indiviual product reviews if you decide to shop here. And since SheIn is a more reliable brand, you can expect decent customer service and free returns on your first order. That being said, SheIn focuses more on the latest trends, so this might not be a good fit for everyone.